Christmas Shoot 08/12/2019 at Manchester Shooting Ground
What a lovely day we had at Manchester Clay Shooting Ground the weather was kind the food was great, and the course was challenging.
Congratulations to High Guns which was shared between Victoria Gallimore and Julia Payne with a credible 58/75 most ladies were awarded the Chocolate Santa upon smashing the driven high bird.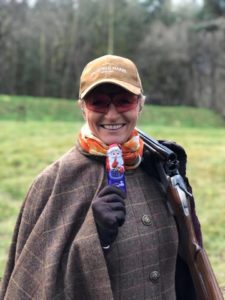 Both ladies were awarded the High Gun vouchers from On The Peg Clothing and various prizes were donated by Mark from A1shot and Louise Aldford from Yorkshire Fillies these prizes were collected by ladies who straightened the most stands.
Special thanks to Miles Machin, Paul Ellis, Mike Sargeson and Robert Eckersley for button pressing, scoring and helpful hints along the way.
This was our final event for 2019 Merry Christmas Everyone and Happy New Year!
Miles & Mandy