Results from Holmes Chapel Shooting Ground 04/05/2019
A beautiful Cool, Bright and Sunny early summer day got us all in the mood for the challenge that is "Down The Line" (DTL) Dave Hurstfield described it as a quote "discipline to love" however after listening to some comments today I have renamed it a "discipline to loath" ……..
As the practice sessions were over a reasonable mix of comments were "It won't beat me" and "What is so difficult? One clay and two shots how can I miss?" and "Wow I can do it" and "I could get to like this" and finally from Abbey Peacock Quote "I Love this Dad I need a trap gun!"
Special Thanks to Dave and the team Helen and Jane in the café and Toby scoring. You Ladies really did impress our guest coaches Ed Furber, Peter Greenwood and Miles Machin and they are encouraging you to keep at it and go along to Practice sessions and to the selection shoots the dates are on the Cheshire CPSA website.
Dave is DTL Manager so is there to help and encourage along with the chairman Miles Machin. So, after a mixture of emotions rolled in with celebrations and achievements, we have the results…
CONGRATULATIONS High Gun goes to Sarah Milroy with pts of 137/150 who will receiver her gift voucher from our fabulous sponsors On The Peg Clothing.
Close runners up were Nicola Booth and Rebecca Wilkinson with 130/150.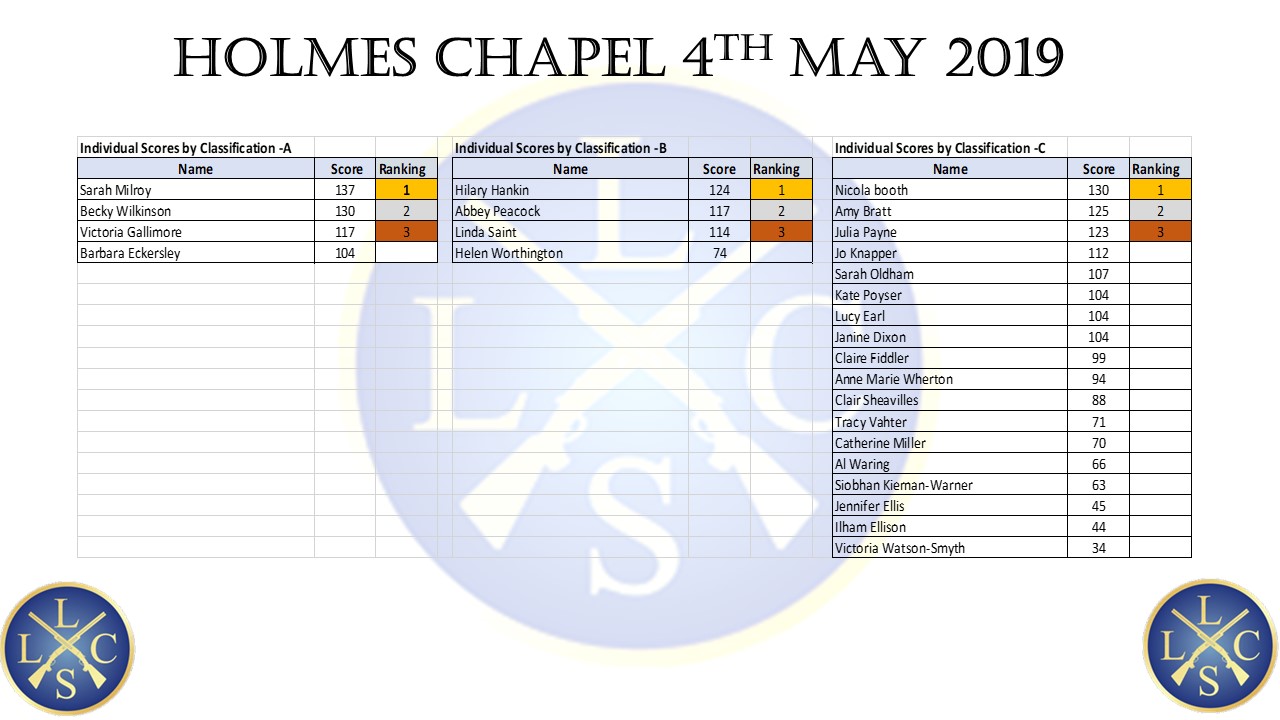 Congratulations to all Prizes winners, Ladies who are 1st 2nd and 3rd   in each class will receive reward Badges Gold, Silver and Bronze at Doveridge Shooting Ground on 01/06/2019
TEAM AWARD
goes to Holmes Chapel Shooting Ground with the 4 highest team members total of 473 Mickley Hall Shooting School team only 5 points behind on 468.  As we go towards our 4th event at Doveridge, the team award is going to be super exciting with a win each for Mickley, Catton and Holmes Chapel.
Congratulations to all Prizes winners, Ladies who are 1st 2nd and 3rd   in each class will receive reward Badges Gold, Silver and Bronze at Doveridge Shooting Ground on 01/06/2019
Team Photo – Hillary and Julia Collecting the Team Trophy on behalf of Catton Hall Shooting Ground team winners of the Mickley Event
Do you have any photos and videos you would like to share with us? If so send them to duncan@shraleybrookmedia.co.uk
And we can add them to our gallery